Art of Science Exhibition
Exhibition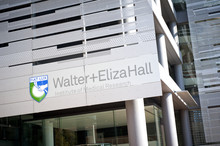 The Atrium
Federation Square
Further Details
T: (03) 9345 2555
Explore the beauty of medical research. Art of Science is a showcase of 20 finalists from the Walter and Eliza Hall Institute's annual Art of Science competition.
The stunning images and videos featured in this free annual exhibition have been captured by our researchers who are tackling some of the biggest health challenges facing humanity including cancer, infectious diseases and healthy ageing.
Attendees get a 'backstage pass' into the laboratory as they are taken on a visual journey of biomedical exploration and discovery, made possible by the Institute's state-of-the-art imaging facilities.
The images offer unique aesthetic appeal as well as an opportunity to explore the intellectual capital that underpins the Institute's position as the top-ranked Australian medical research institute (Nature Index, 2019).
Introductory guided tours by Institute researchers are available by prior arrangement. For guided tour enquiries, please email communityrelations@wehi.edu.au.
Entry is free.