Re-Awakening Kaurna, the Language of the Adelaide Plains: Strategies and Methods
Free Public Lecture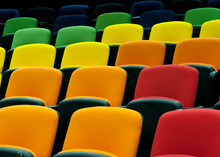 Elizabeth Murdoch Theatre A
Elizabeth Murdoch
Parkville campus
Spencer Road
Further Details
T: (03) 8344 7626
Kaurna, the language of the Adelaide Plains, has been reclaimed from written records, in the absence of any sound recordings, which were compiled in the mid-19th century. Without these records, principally the work of Dresden missionaries Christian Teichelmann and Clamor Schürmann, the re-introduction of Kaurna would not be possible. The interpretation of historical records relies on comparisons made between different observers and with neighbouring related languages, though there is still a large element of guesswork involved.
Historical records provide a reasonably solid foundation for the formation of new words to fill gaps and expand the vocabulary, and to formulate expressions enabling the language to be spoken once again. We will discuss strategies for re-introducing Kaurna, including songs, games and the formulaic method.
Kaurna now functions as an auxiliary language alongside English, where its emblematic role is paramount. It is frequently used in 'Welcome to Country' and 'Acknowledgement of Kaurna' speeches, within dance performances, in signage and in public works of art. There is recognition of extant Kaurna placenames, some in accordance with dual naming legislation, and strong demand for Kaurna names and translations for a wide range of entities.
Kaurna is now beginning to gain a foothold within the Kaurna community and within the homes of some families. Kaurna people are adopting Kaurna names for themselves, their children and their pets. Some young Kaurna people have developed considerable fluency, whilst Buckskin is raising his three children as at least semi-native speakers of Kaurna.