Could Microbes be the Cause of Alzheimer's Disease?
Seminar/Forum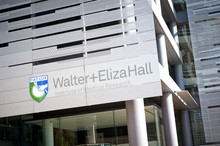 Seminar Room 1
Walter and Eliza Hall Institute of Medical Research
Parkville campus
1g Royal Parade
Further Details
T: (03) 9345 2555
Four years ago Leslie Norins became interested in the mystery of Alzheimer's disease and was startled to read that many clues hinting at an infectious process had never been thoroughly investigated. Therefore, he and his wife, Rainey, launched Alzheimer's Germ Quest, Inc., a nonprofit company encouraging research on the role of microbes in dementia. They offer a $1 million (USD) challenge award to the scientist who provides persuasive evidence of an "Alzheimer's germ".   In Australia, "Dementia" (of which 50% is Alzheimer's disease) is the leading cause of death in females, and is the third-leading cause of death in males.  An estimated 447,000 Australians have dementia, and 250 new cases are added every day.  The cause is not known and there is no cure.