The Changing Media Landscape
Seminar/Forum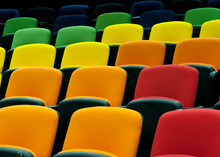 Level 7, Lecture Theatre B
Victorian Comprehensive Cancer Centre
Parkville campus
305 Grattan Street
Further Details
Monday Lunch Live with Michelle Griffin – The changing media landscape.
Advances in online and social media have changed the way media is reported, delivered and consumed...from hard-copy newspapers, nightly televised news and radio, to the 24 hour news cycle, podcasts and citizen journalists.
Health reporting has always been an important topic at The Age. The daily newspaper is a multi-platform publisher, always looking for ways to enrich coverage of the research, practice and outcomes of health treatment in Australia.
At a time when so much misinformation is spread so widely, The Age is committed to responsible reporting and this year published its health research guidelines.
Hear from The Age, News Director Michelle Griffin on health and medical research reporting. In an era of smartphones and fake news how do we ensure the public hears and understands scientific discoveries and clinical outcomes?
This presentation is suitable for clinicians, researchers, allied health professionals, students, cancer consumers and anyone interested in heath media (general public).