Stem Cell Therapies for Neurodegenerative Disease
Seminar/Forum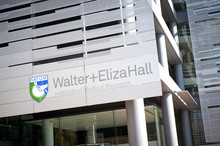 Davis Auditorium
Walter and Eliza Hall Institute of Medical Research
Parkville campus
1g Royal Parade
Further Details
T: (03) 9345 2555
Parkinson's disease is the second most common neurodegenerative disease and it's worldwide prevalence is predicted to double in the next 25 years. Unfortunately, the pharmacologic treatment of Parkinson disease (PD) is currently limited to symptomatic therapies. For PD, therapy that is disease-modifying or neuroprotective therapies is still theoretical as the complex mechanisms that result in the death of the 300 to 400 thousand at risk neurones are poorly understood. It is hoped that emerging techniques of dopamine cell replacement with stem cells may provide the elusive treatment that either slows the progress of the disease or may help reverse some of the symptoms.
In this seminar, the current challenges and developments in cellular replacement therapies will be discussed using an example of a phase one study conducted through the Royal Melbourne Hospital.
No registration is required.