Machine Learning Approach to Define Antimalarial Drug Action from Heterogeneous Cell-Based Screens
Seminar/Forum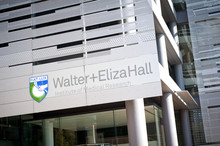 Davis Auditorium
Walter & Eliza Hall Institute of Medical Research
Parkville campus
1g Royal Parade
Further Details
T: (03) 9345 2555
As drug resistance spreads, there are urgent calls for novel drugs with new mechanisms of action to avoid future cross resistance. One organism gaining drug resistance to current treatments is the human malaria parasite, Plasmodium falciparum; however current drug screening methods lack information on drug mechanism of action with results taking many months.
This seminar will introduce machine-learning as a way to classify plate-based parasite cultures and define antimalarial drug effect from fluorescence imaging data. Extracted information can provide insight into not only drug effectiveness, but also how a drug works relative to other antimalarials.
No registration is required.