Can We Trust America?
Launch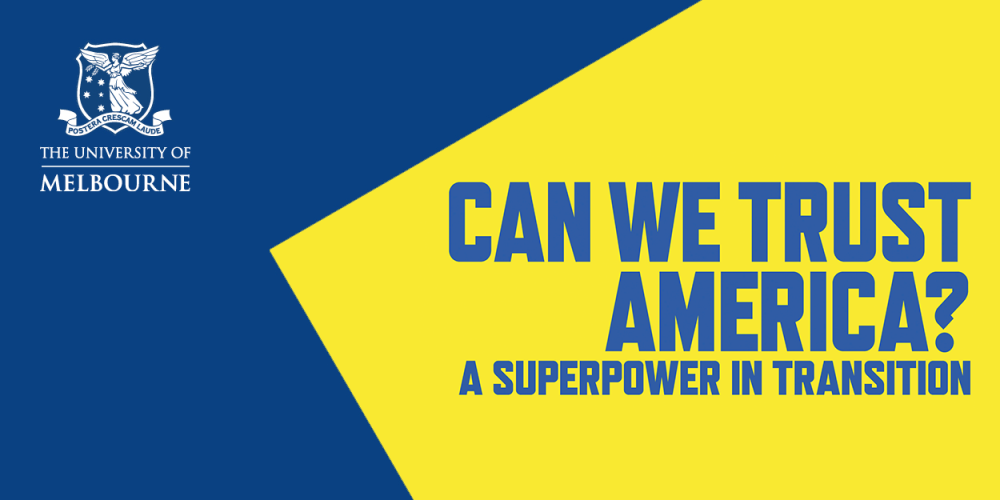 North Wing
Old Quadrangle
Parkville campus
Further Details
The University of Melbourne invites you to attend the launch of the Australian Foreign Affairs #8 - Can We Trust America? Please join us and our panel of experts for an evening of conversations and networking.
Can We Trust America? looks at the uncertainties for Australia as questions arise about the commitment of its closest ally. As the US dominance in the Asia-Pacific is challenged by China and the "America First" shift away from global engagement, the eighth issue of Australian Foreign Affairs offers four fascinating timely perspectives on this key relationship.
Meet our panellists:
Professor Michael Wesley, Deputy Vice-Chancellor International at the University of Melbourne
Professor Brendan Taylor, Strategic Studies, Strategic and Defence Studies Centre, Coral Bell School of Asia Pacific Affairs at the Australian National University
Dr Gorana Grgic, Lecturer in US Politics and Foreign Policy, United States Studies Centre (jointly appointed with the Department of Government and International Relations, University of Sydney)
Associate Professor Timothy Lynch, American Politics and the Associate Dean (International) in Faculty of Arts at the University of Melbourne
Moderated by:
Ali Moore, TV journalist and radio broadcaster
Order of Proceedings
6:00pm – Light refreshments
6:45pm – Welcome
7:00pm – Panel discussion
8:00pm – Event concludes
Please RSVP by Monday 9 March.
This event is hosted in partnership with Australian Foreign Affairs. For more information about Australian Foreign Affairs, please visit: www.australianforeignaffairs.com