History at the Crossroads: A Melbourne Story
Free Public Lecture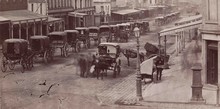 Theatre A
Elisabeth Murdoch Building,
The University of Melbourne, Parkville
Further Details
T: (03) 8344 1521
For the urban historian, writing a new history of Melbourne is rich with possibilities and provocations. In this lecture Professor Andrew May will draw on examples from his current project to discuss the interpretive power of urban history to cast light on the historical relationships between people, places and institutions. He will also reprise two and a half decades of active engagement as a writer, heritage consultant, encyclopedist, exhibition curator, and digital and new media practitioner, to reflect on the role of the historian in the contemporary city.