Community bike workshops: their contribution to justice, sustainable urban transport and the social economy
Seminar/Forum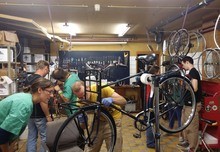 Theatre 2, Basement
School of Geography
221 Bouverie Street, Carlton
Further Details
T: (03) 8344 9319
Simon Batterbury explores community bike workshops that provide an 'urban commons' where people learn to fix up a working bicycle, and source their own parts and tools. Workshops operate on the 'demand' rather than 'supply' side of sustainable transport, creating skills and a bike culture, not infrastructure.
Some were established over thirty years ago, but numbers have increased in Western cities as cyclist numbers are rising. Recycled bikes and parts are salvaged and restored by children and adults needing transportation or those wanting to achieve "vélonomie" (bicycle autonomy) assisted by staff and volunteers. Simon's research has included interviews with participants in 26 workshops in Brussels, Berlin, the UK, NZ and USA, to discover their history, mode of operation, budgets, and contributions to urban sustainability. Research also reported on http://bikeworkshopsresearch.wordpress.com/ suggests finding and maintaining premises is a problem, and their missions vary from "creating vélonomie" to transitioning to large social enterprises with paid staff. Some staff are urban activists but there are also social entrepreneurs with little money or time, all stalwarts of 'community economies'. Workshops are often "networked" and generally community-minded, but there are signs of emerging competition and tensions. They are creating bicycle justice and new rights to the city.
Simon Batterbury is Associate Professor of Environmental Studies at the School of Geography of the University of Melbourne.