Imagined Futures: Back to the Future Tribute
Film Screening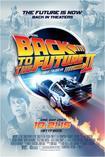 HOYTS Cinema, Melbourne Central Shopping Centre
Cnr Swanston and Latrobe Street, Melbourne
The countdown has begun in the celebration of the 30th anniversary of Back to the Future's protagonists Marty McFly and Dr. Emmett Brown (Doc)'s epic entry into 'the future' on 21 October 2015, via a flying Delorean and a 'flux capacitor', of course.
Flying cars, hoverboards, powerlaces, robot technology, biometrics (the use of scanning of the eyes and fingerprints), dust repellent paper, 3D animation and large flat screens, are just some of the new technologies that Marty and Doc are confronted with. This version of 2015 was dreamt up by writer Bob Gale and brought to screen by director Robert Zemeckis. Save for a few oversights, their shared future resembles our own in various ways.
This science fiction film was not only a commercial success but captured the imaginations of millions worldwide, who no doubt all pondered what technological possibilities 2015 would bring. Not surprisingly ever since the film was released in 1989 a desperate market for these technologies have existed.
Join University of Melbourne academics Professor Angela Ndalianis and Dr Denny Oetomo from cinema and engineering respectively, who will use the 30th anniversary of Back to the Future as a springboard to discuss the wider context of the role that cinema plays in advancing and creating technological advancements, and vis-a-versa.
Back to The Future Part II will be screened after the discussion.
Cost: $38 Alumni, $40 Non Alumni (includes a Candy Bar Trio, small Popcorn, 600mL drink or Mount Franklin Water and a Choc Top)