When accounting collides with botany
Free Public Lecture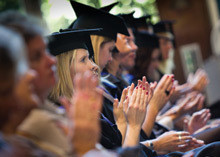 Royal Botanic Gardens
outside Visitors Centre (at Observatory Precinct)
Birdwood Avenue, Melbourne
What happens when accountants and botanists join forces to measure and report carbon emissions?
Join the University of Melbourne's Brad Potter, Naomi Soderstrom and Ian Woodrow for a walk-and-talk in the Royal Botanic Gardens as they explain how trees and the study of carbon emissions can help modern business operate in a more environmentally sustainable way. Join us for morning tea at Jardin Tan at 11am after the talk.
For Associate Professor Brad Potter and Professor Ian Woodrow (both from The University of Melbourne), the collaboration between accounting and botany means finding a way to more accurately measure carbon emissions, allowing a more thorough examination of how this information might be meaningfully reported. The relative lack of reliability of environmental disclosures has been a hurdle for their usefulness in the past. Part of Brad and Ian's plan is to test, primarily by way of experiment, whether or not giving people more information about how environmental impact is measured, and its reliability, will change the decisions they're likely to make.
The setting for this project is the Royal Botanic Gardens, whose trees have accumulated carbon that has been recorded for the last 25 years, which is where you are invited to join them on a walk-and-talk through the greenery. They will explain how their methods of measuring and extrapolation of data are unique, and how this particular study of carbon emissions is relevant to modern workplaces. After the walk, continue the conversation over morning tea at Jardin Tan in the Gardens.
The University of Melbourne is proud to present this event as part of Melbourne Knowledge Week, an initiative of the City of Melbourne.