Aleppo and Palmyra: How Monuments were 'Weaponised' in the Syrian Conflict
Free Public Lecture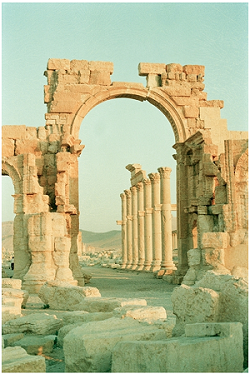 Forum Theatre - 153
Arts West
Parkville
Further Details
T: (03) 8344 2780
Ross Burns, whose recent publications include Aleppo, A History and Monuments of Syria, presents an analysis of why the country's incomparable store of historical buildings and sites has been so deliberately targeted. In many cases such damage represents not collateral casualties but the deliberate 'weaponising' of symbols of the past – turning historical treasures from many civilisations into weapons in a propaganda war. While such deliberate targeting represents only a small proportion of the carnage afflicted on the country – compared to the results of deliberate assaults on civilian housing, medical facilities and schools – such cultural assets can play an important role in the restoration of Syrian national identity after the end of the conflict.
Adjunct Professor Ross Burns graduated in History and Archaeology from Sydney University, 1966 and spent 37 years in the Australian Foreign Service including posts as Ambassador in the Middle East, South Africa and Greece.
This event is co-presented by The Ian Potter Museum of Art.