Global Policing: a Research Agenda for a New Generation
Free Public Lecture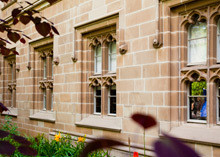 Public Lecture Theatre
Old Arts
Parkville
Further Details
T: (03) 9035 5092
The 2017 John Barry Memorial Lecture in Criminology
In recent years, there have been radical changes in the form and function of modern policing at both the local and global level. This shift has been brought about by the growth of international policing networks; blurring boundaries between police, border control, the military and private security; advances in information and communication technologies; and pressure to respond to the transnational nature of criminal and security threats. These changes pose serious questions for scholars, policymakers, practitioners and the broader community.
This lecture calls for a new interdisciplinary research agenda on the globalisation of policing and will consider:
How local police adapt to new technologies and respond to transnational threats such as terrorism
The role of law and local democratic institutions when police power transcends national borders
The theories and methods required to understand these changes
How the visibility and trajectory of global policing can be shaped into the future.
Professor Ben Bowling is an expert in criminal justice and policing with a special emphasis on transnational law enforcement. He is Deputy Dean of the Dickson Poon School of Law at King's College London.