The Feminine Mystique: Women in Research Trials and Commercialisation
Free Public Lecture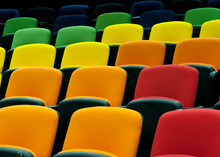 Lecture Theatre B, Level 7
Victorian Comprehensive Cancer Centre
Melbourne
305 Grattan Street
Further Details
In acknowledgement of International Clinical Trials Day, 2017 Telstra Businesswomen of the Year for Victoria and board member of Clinical Trials Australia, Michelle Gallaher, will give this lecture on gender balance and diversity in clinical trials.
The low number of women involved in leading invention, research, clinical trials (specifically as volunteers and participants) and commercial development and funding has skewed the release of new medicines and devices to the detriment of women worldwide. Evidence suggests that it is really only in recent times that a shift has enabled more new products on the market to support women's health, and women with the power to influence their success.
Clinical trial recruitment poses interesting questions. If most of our volunteers are men and our trials lack in ethnic, age as well as gender diversity, it puts women at risk and at a disadvantage of not accessing innovative medicines and devices.