Can Evolution Keep Up with Rapid Climate Change?
Free Public Lecture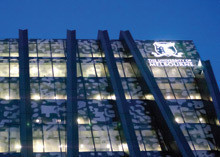 Copeland Theatre
Building 110 (The Spot)
Parkville campus
198 Berkeley Street
Further Details
Miegunyah Lecture in BioSciences
To escape extinction in the face of rapid climate change, organisms must acclimate to novel conditions, evolve fast enough to keep up with rapid environmental change, and/or migrate fast enough to track their preferred climate as it shifts across the landscape. It is an open question whether such rapid responses are possible. This lecture will describe the evidence for past and current organismal responses to ongoing climate change, and discuss whether or not these responses will be sufficient to rescue populations and species from future rapid change. Professor Johanna Schmitt will include examples from her own field research on climate adaptation of wild plants along latitudinal and elevational gradients, and will highlight the general importance of these issues for biodiversity conservation, forestry, and agriculture in the 21st century.