Reducing Energy Consumption
Free Public Lecture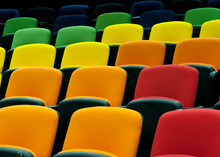 Fritz Loewe Theatre
McCoy Building
Parkville campus
Elgin Street
Further Details
T: (03) 8344 4124
Electricity prices continue to rise. There are two potential options to counter this: renewable energies or reducing demand.
This event will focus on the options for reducing energy consumption as well as different ways to shift towards zero-carbon emissions.
The lecture will include a case study: 'ecoenergy' company SolXEnergy will present on their variable flow compressor system and explain how solar thermal systems work.