Using AI as an Early Warning System for Eye Disease
Free Public Lecture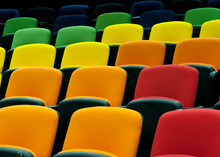 Auditorium
Peter Doherty Institute
Parkville campus
Grattan Street
Further Details
T: (03) 8344 8405
Loss of vision has a profound impact on a person's life: financially, economically and socially. The incidence of eye disease is increasing with a global ageing population.
It is estimated that vision loss costs the Australian economy $16 billion a year, and that does not include the indirect personal and social costs when an individual loses some or all visual capacity. Like many life-changing chronic conditions, early detection is crucial to prevent debilitating vision loss.
IBM Research Australia is developing Artificial Intelligence (AI) solutions to identify early signs of common eye diseases like Glaucoma and Diabetic Retinopathy. In this talk, Dr Natalie Gunn and Dr Stefan Maetschke will shed light on the current capabilities of our technologies, and share their perspective on how these technologies can help make a difference to the prevention and identification of eye disease, and keep us all active for longer.