Awaken Exhibition: Curator Talk
Other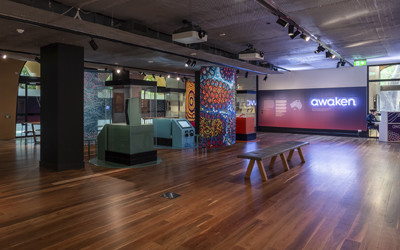 Arts West Gallery
Arts West
Parkville campus
Further Details
Australian Aboriginal cultural heritage objects from one of the most important anthropological collections in the world are on display for the first time at the University of Melbourne.
The 'Awaken' exhibition includes almost 200 items from the extensive Donald Thomson Collection, gathered from the diverse communities of Arnhem Land, Cape York and the Western and Central Deserts during the anthropologist's 50-year career.
'Awaken' has been curated by Genevieve Grieves, Worimi Nation filmmaker, storyteller and Melbourne Museum Director of First Peoples, together with Rosemary Wrench (Museums Victoria) and Shonae Hobson (Kaantju).
Join us for a curator talk with Shonae Hobson. There will be a drink included on arrival.
Tickets for this special event are $3 + $1.90 bf.
This event is part of the 2019 Human Rights Arts and Film Festival.