Technology to Assist Culturally and Linguistically Diverse (CALD) Patients
Seminar/Forum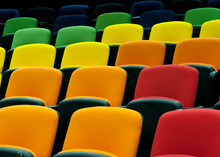 Level 7 Lecture Theatres
Victorian Comprehensive Cancer Centre
Further Details
Monday Lunch Live with Courtney Pocock
CALD Assist offers a simple and dynamic way for nursing staff and clinicians to communicate with patients when an interpreter is not available. Courtney Pocock will share information about the award winning iPad app, developed by Western Health in partnership with the CSIRO with support from Better Care Victoria and previously the Victorian government.
This presentation will outline the challenges and successes of the development, evaluation and implementation of CALD Assist.
Learn more about this exciting new technology and help overcome inequity in care delivery for patients wherever you are.