Improving Breast Cancer Outcomes: Past, Present and Future
Free Public Lecture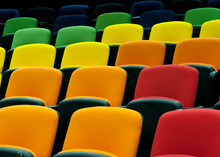 Level 7, Lecture Theatre B
Victorian Comprehensive Cancer Centre
Parkville campus
305 Grattan Street
Further Details
The Victorian Comprehensive Cancer Centre (VCCC) is delighted to join with Breast Cancer Network Australia (BCNA) to present a special public lecture, exploring the history, present and future of breast cancer treatment.
International guest speaker: Dr Eric Winer, MD, Director, Division of Breast Oncology Center, Susan F. Smith Center for Women's Cancers, Dana-Farber Cancer Institute, Massachusetts, USA
All are welcome. This event may be of special interest to cancer consumers, cancer advocacy groups, medical students, consumer researchers and clinicians.
Breast cancer remains the most common cancer for women in Victoria, accounting for 29 per cent of all cancers for women. Although mortality rates are slowly declining, it was still the second ranking cause of cancer death for Victorian women in 2018.
Dr Eric Winer is one of the world's foremost breast cancer specialists. A medical oncologist, Dr Winer has designed and conducted clinical trials that have changed clinical practice and paved the way toward more personalised treatment of patients with breast cancer.
Hosted by Kirsten Pilatti, CEO of Breast Cancer Network Australia, the forum will examine how far we have come with breast cancer research and treatment over the last 30 years and what we need to do to overcome this complex disease in the future.
All welcome for this special free public lecture to be held at the VCCC building, Parkville.