MAP Masterclass: The Rise of Sustainable Startups
Seminar/Forum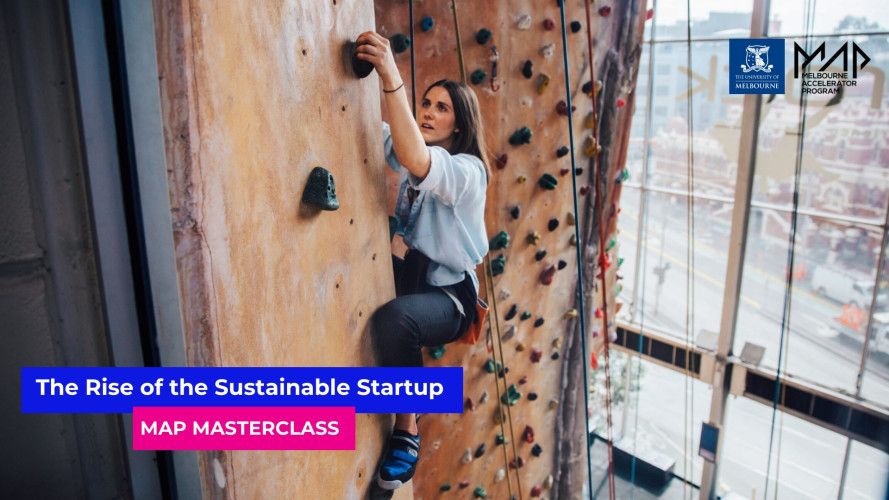 Ground Floor Event Space
381
Parkville campus
10 La Trobe st.
Further Details
Join us for another Melbourne Accelerator Program (MAP) Master Class as we look back over the last decade and explore how startups and the culture surrounding them has developed over time.
The startup sector was in its infancy ten years ago, and had a particularly noisy developmental phase that could be accurately summarised with the defining term of the era, 'hustle'! On reflection, we could argue that 'the hustle' was not an inclusive concept, and led to a suite of challenges that became synonymous with the startup sector.
We have invited a range of experts to present evidence that positive change is happening, and that as a community we are witnessing the rise of the sustainable startup in every sense.
Some questions we will explore include:
Are we beginning the new decade acknowledging that a lack of diversity, sleeping under desks and working till burn out are unsustainable?

Is there any evidence that suggests startups are beginning to advocate for change, celebrate inclusion and solve big problems in a sustainable way?
The discussion will also cover:
Shifting cultural and HR practices that aim to foster work-life balance

An increased focus on inclusive or impactful growth

Ethical requirements for investment from venture capital

Increased interest in circular economies, and environmental sustainability
Schedule:
5:30 pm Doors open and pre-event networking begins
5:45 pm Mindfulness exercise led by Andrea De Almeida
6:00 pm Panel discussion with:
James Lolicato Pride Cup (moderator)

Phoebe Gardner Beyond Ag

Andrea De Almeida B Lab Australia and New Zealand & ADA Advisory

Paul Naphtali Rampersand
6:45 pm Audience Q and A
7:00 pm Event concludes