A conversation with Fabiola Gianotti: leader of the ATLAS Collaboration at CERN
Free Public Lecture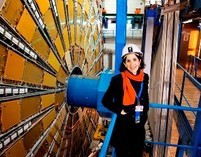 Basement Theatre
The Spot Building (Business & Economics)
198 Berkeley Street, Carlton
Further Details
T: (03) 8344 4392
In this lecture Professor Fabiola Gianotti will discuss the challenges and goals of the Large Hadron Collider, the ATLAS experiment and its latest results, and the impact of particle physics on society.
ATLAS is a particle physics experiment at the Large Hadron Collider at CERN. The ATLAS detector is searching for new discoveries in the head-on collisions of protons of extraordinarily high energy. ATLAS is learning about the basic forces that have both shaped our Universe since the beginning of time and will determine its fate.
This lecture is part of the July Lectures in Physics series which provides insight into fundamental questions in physics.
Professor Gianotti is the overall coordinator of the ATLAS Collaboration which consists of 3000 scientists from 38 countries.