Stephen Cleary Screenwriting Lecture Series 2013 - Lecture 3: My Development Walk Through
Free Public Lecture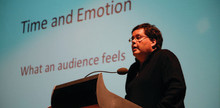 VCA Federation Hall
Faculty of VCA and MCM
Grant Street, Southbank
Further Details
T: (03) 9035 9037
Internationally celebrated film development consultant, Stephen Cleary (former Head of Development at British Screen) returns to the VCA this year for his fourth 'sell out' lectures series on the art of screenwriting.
This is lecture 3 of a 3 part lecture series.
In this series Cleary will be taking a practical approach to screenwriting. He will present his thoughts on fresh and pragmatic ways to think about writing characters in screen stories; how theme relates to character directly, to plot indirectly, and how it binds the two together; and how he personally approaches a story development meeting, combining technical expertise, emotional sensitivity and genuine passion for film and story.
Supported by the Grace Marion Wilson Trust.