Lorella Zanardo's Women Bodies: Screening and Discussion with the Director
Free Public Lecture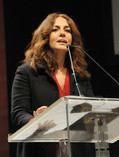 Theatre C
Old Arts Building
Further Details
T: (03) 9035 9645
This event will begin with the screening of Lorella Zanardo's short documentary Il corpo delle donne / Women's bodies (in Italian with English subtitles).
After the screening Zanardo will talk about the documentary, the situation of women in today's Italy and her current and future projects with Magica Fossati from SBS radio.
Lorella Zanardo is an Italian writer and journalist who co-authored Il corpo delle donne / Women's Bodies, a short documentary on how commercial TV channels in Italy have been portraying women in the last three decades. This documentary enjoyed a sensational word-of-mouth success in Italy and abroad. Since its release, Zanardo has been flooded with invitations to present and discuss her work. She has given talks in high schools and universities and has participated to numerous political talk shows.