The Piranesi effect: architecture, imagination and consequences
Free Public Lecture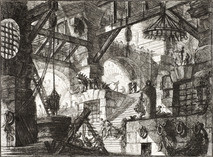 Multifunction room, level 1
Ian Potter Museum of Art
Swanston Street, The University of Melbourne, Parkville
In this talk, Professor Donald Bates will merge Piranesi with contemporary architectural concerns and expand upon his significant contribution to architecture and drawing.
Giovanni Battista Piranesi holds a unique place in the history and theory of architecture - an architect who built almost nothing, and yet one who profoundly influenced generations past and present. His drawings, engravings and prints link the classical Roman past with contemporary theories of representation, material and constructional description and imaginary spaces and structures.
Piranesi's graphic supremacy ranged from the refined, measured drawings of Roman archeology to the infinite space of endless prisons. His creative speculations hold insights and understandings as much today as during his 18th century life.
Image: Giovanni Battista Piranesi Carceri d'invenzione [The well] plate XIII, 1761 etching and engraving 41.5 x 55.8 cm (plate)