Women and Militant Wars: The Politics of Injury
Booked Out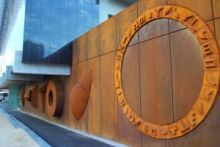 Seminar Room
Australia India Institute
147-149 Barry Street Carlton VIC 3053
This talk is based on Dr. Parashar's latest book and will address the gender politics of insurgent wars and women's roles and experiences within them.
In International Relations, inter-state conflict, anti-state armed insurgency and armed militancy are essentially seen as wars where collective violence (against civilians and security forces) is used to achieve political objectives.
Extending the notion of war as 'politics of injury' to the armed militancy in Indian administered Kashmir and the Tamil armed insurgency in Sri Lanka, Dr. Parashar explores how women participate in militant wars, and how that politics not only shapes the gendered understandings of women's identities and bodies but is in turn, shaped by them.
Empirical analyses of women's roles in the Sri Lankan Tamil militant group, the LTTE and the logistical, ideological support women provide to militant groups active in Indian administered Kashmir suggest that these insurgent wars have their own gender dynamics in recruitment and operational strategies.
The talk will also reflect on feminist IR researchers' dilemma in working with difficult subjects.