Does technology do more good than harm?
Free Public Lecture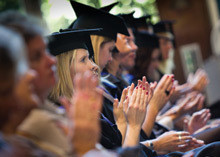 Carrillo Gantner Theatre
Sidney Myer Asia Centre
Swanston Street, Carlton
Further Details
T: maeve-admin@unimelb.edu.au
The potential of new and emerging technologies in the area of violence against women is increasingly becoming recognised by governments, researchers, and community organisations alike.
This public panel will discuss technology's potential as a tool to help women seek safety, challenge and change gender attitudes, as well as its potential for harm.
The Melbourne research Alliance to End Violence against women and their children (MAEVe) is an interdisciplinary research alliance that draws together research and evaluation capacity from across the University, in partnership with community, industry and government agencies. Our aims are: to reduce harm and improve the safety and wellbeing of women, families and communities; increase accountability and improve responses to men; and prevent violence before it starts. Panelists include:
Clementine Ford, writer, broadcaster and public speaker
Professor Nancy Glass, Johns Hopkins University
Professor Cathy Humphreys, University of Melbourne
Emily Maguire, CEO, Domestic Violence Resource Centre Victoria
Mark Oliver, General Manager, Tigerspike
Dr Anastasia Powell, RMIT University