The Death of Shakespeare
Free Public Lecture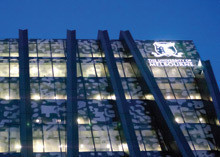 Forum Lecture Theatre
Arts West
Further Details
T: (03) 9035 5092
On 23 April 1616, four hundred years ago this year, William Shakespeare died in the small Warwickshire town of his birth.Two days later he was quietly buried in the chancel of its parish church. Beyond Stratford-upon-Avon the death of Shakespeare seems to have aroused very little interest. No gatherings in his memory were held in London or elsewhere in the country. The company of players that he had led for so long went on with their usual business, and their patron James I and his court didn't pause to honour his passing. No verses bewailing his death of Shakespeare were published or collected, as was customary at the death of prominent people – and, in particular, of prominent poets. None of his contemporaries, in Britain or abroad, noted the fact of his death in any surviving letter, journal, or record.
Why was the death of Shakespeare such a non-event? Why weren't his prodigious achievements more widely celebrated and remembered; why wasn't his passing more deeply mourned? What does this curious silence tell us about Shakespeare's reputation, and the state of letters in Britain, in 1616? This talk will seek to explore these puzzling, but seldom asked, questions.
Professor Ian Donaldson has taught at the Universities of Oxford, Cambridge, Edinburgh, and at the ANU, and is currently an Honorary Professorial Fellow in the School of Culture and Communication at the University of Melbourne.