Cultural Analytics: Understanding Today's Digital World
Seminar/Forum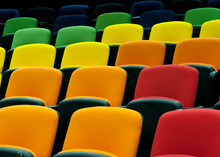 Digital Studio, Level 3, West Wing
Arts West
Professor's Walk, Parkville
Further Details
T: (03) 9035 7936
The Digital Studio's lunchtime seminar series launches with Cultural Analytics: Understanding Today's Digital World, presented by Professor Juan Luis Suárez, Director of the CulturePlex Lab at the University of Western Ontario.
Cultural Analytics has emerged as an area of collaborative research focused on deciphering the main components and metrics to understand human behaviour in the digital age. Populated by humanists, social scientists and scientists from different labs and groups around the world, the goal of all of them is to develop the tools, concepts and measurements that help us navigate what is going today in what looks like an inexplicable new world of individual and collective behaviours. The talk will explore the main trends in the field and will show some examples of current ongoing research at The CulturePlex Lab (Western U., Canada). The CulturePlex Lab is a multi-disciplinary facility that researches culture analytics and digital innovation. The team is made up of humanists, computer scientists, mathematicians, entrepreneurs, engineers and designers who come together to solve complex problems. Their toolbox includes design thinking, modelling, big data, network analysis, agent-based simulations, digital anthropology and traditional humanistic approaches.
The Digital Studio's lunchtime seminar series showcases research projects of internal and visiting academics from across the digital humanities, arts and social sciences. Bring your lunch and your appetite for engaging research.