Smarter Cities: Critical for Australia's Economic Future
Free Public Lecture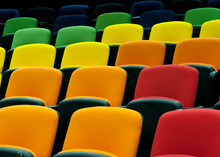 Brown Theatre
Electrical Engineering Brown Theatre
Free public lecture, delivered by Warren Lemmens, looking at how Australia can fully embrace the economic opportunities offered by smart city technology.
Smart cities and innovation are on the national agenda, but are they enough to ensure Australia captures the full economic opportunity?
All cities – metropolitan and regional – are essential economic engines that are already coming under pressure to compete for jobs, investment and talent. Australia is falling behind in key competitive metrics and faces key capability gaps in how it is positioning its cities to win in the technologically disrupted future.
Based on the recently released whitepaper - A new world of cities and the future of Australia - and Nokia's global experience, this talk argues for a more sophisticated approach to cities as a key enabler of Australia's innovation and economic development. It puts forward six imperatives to help foster a national approach that overcomes legacy ideas about cities and ensure the appropriate policy, partnership and infrastructure enablers are in place.
Warren Lemmens is Chief Technology Officer across Nokia's Oceania market unit.