VIIN Careers Evening 2017
Future Student Event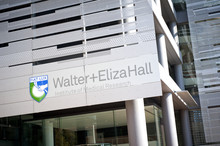 Woodward Conference Centre
10th Floor, 185 Pelham Street
Further Details
T: (03) 9345 2555
The Victorian Infection and Immunity Network (VIIN) brings together researchers from diverse disciplines across various nodes within Victoria who have an interest in infection and immunity. Through events such as the Lorne Infection and Immunity Conference and annual postgraduate and postdoctoral research symposia, VIIN connects established and emerging infection and immunity researchers with the goal of seeding new collaborations and strengthening research performance and capabilities.
An opportunity for Postgraduate Students and Postdoctoral Researchers to hear about alternative career paths.
Registration is free, closing 28 April.
Open to all Victorian Infection and Immunity Researchers and Postgraduate Students.