Next-Generation Proteomics
Seminar/Forum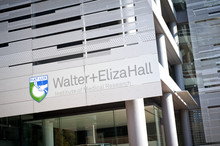 Davis Auditorium
Walter and Eliza Hall Institute
Parkville
1g Royal Parade
Further Details
T: (03) 9345 2555
Methods for advancing our knowledge of biological mechanisms, pathways, targets and disease.
One of the fundamental goals in molecular biology is understanding the complexity of how cells communicate and function. Recently, our perception of a unidirectional flow of information from DNA to RNA to proteins has been challenged, with many key examples of the nonlinearity between genotype and phenotypes. Posttranslational regulation and modifications are revealing the true complexity of living cells. These are further complicated by the interconnectivity of proteins into signalling networks that deviate in time and space.
As we have begun to deconvolute this complexity (in order to understand and ultimately manipulate biological systems) we have seen large and exciting advancements in sample preparation, instrumentation and bioinformatics over the past decade that are leading us to a more comprehensive understanding of posttranslational regulation, cell signalling and protein interactions.
Recently, Dr Andrew Webb and his lab has begun implementing machine-learning algorithms into the various stages of their analysis with great results. In particular, they are interested in developing the tools to detect novel diagnostic and prognostic markers they have compared disease-affected individuals with healthy controls and those with alternative diagnoses. This seminar will introduce recent advances in MS technology and analysis strategies that are being developed in the Proteomics Lab.
No registration is required.