Diet, microbiome, immune function and disease
Seminar/Forum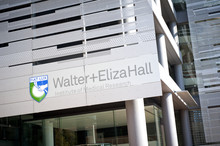 Seminar Room 1
Walter and Eliza Hall Institute
Parkville
1g Royal Parade
Further Details
T: (03) 9345 2555
Dr. Eliana Marino is investigating how diet and the gut microbiota through metabolites and their sensing receptors, the G protein couple receptors (GPCRs), affect immune tolerance, gut homeostasis and inflammation.
Dr. Marino's research is at the cutting edge of the field and her lab is one of the leading groups worldwide studying the role of diet and microbiota on the course of diabetes and related complications.
No registration is required.