Understanding the physiological regulation of innate immunity
Seminar/Forum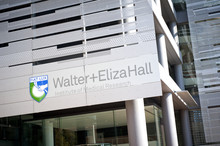 Davis Auditorium
Walter and Eliza Hall Institute
Parkville
1g Royal Parade
Further Details
T: (03) 9345 2555
The basis for personalised medicine is that unique aspects of our biology will define novel targets and strategies for more effective prevention and treatment of immune-related diseases. To develop such therapies, it is important to understand how our physiological parameters influence the immune responses. Despite the crucial role of the hormonal regulation and circadian rhythm on numerous biological processes, consideration for their influence on the immune system only starts to emerge. Supported by a Career Development Fellowship and a Project Grant New Investigator (NHMRC), Dr Seillet's research aims to understand how these parameters regulate the innate immune cells and their consequences on the development of inflammatory diseases.
During this seminar, Dr Seillet will discuss about the sex-differences observed in innate immunity that contribute to the marked differences seen in the susceptibility to autoimmune disease and allergic responses in males and females. He will also present pioneering work on the circadian regulation of the innate cells and how this process may help the immune system to anticipate pathogen threats during activity time while promoting repair and recovery during resting phase.
No registration is required.