Feedback for Learning: The Challenge of Design
Free Public Lecture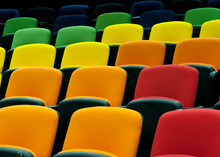 Theatre B
Old Arts
Parkville
Further Details
T: (03) 8344 2591
Feedback is a challenging but important business in higher education. Despite compelling evidence that it is important for learning, feedback is seen as one of the most problematic aspects of the student experience.
Learners report that they do not receive enough feedback, and when they do, it is difficult to use. This finding is consistent across both classroom and workplace settings.
Educators in the classroom struggle with turn-around time for comments on work, as well as the pressure to provide personalised and individualised comments on students' work. Educators in both settings also anticipate the emotional impact of their feedback on students, and can approach these encounters with a tentative stance that reinforces to learners that feedback is a practice to be feared.
This seminar explores recent frameworks proposed by Boud and Molloy (2013) called Feedback Mark 1 and Mark 2. Feedback is re-conceptualised as an activity driven by learners, rather than an act of 'telling' imposed on learners.