India after Three Years of Modi: Cheers and Challenges
Free Public Lecture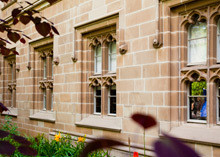 Seminar Room
Australia India Institute
Parkville
149 Barry Street, Carlton
More than three years have passed since Narendra Modi steered the Bharatiya Janata Party (BJP)-led National Democratic Alliance (NDA) to a spectacular victory in India's Parliamentary elections and assumed office as the country's 14th Prime Minister in May 2014.
Modi's Prime Ministership has been eagerly followed and discussed. The period has witnessed heightened engagement between India and the rest of the world along with implementation of policies for reforming the economy, domestic institutions and governance.
Nonetheless, significant challenges persist on the economic front, where expectations remain unfulfilled. This seminar will review the past three years identifying the achievements of the Modi government and the pressing issues it needs to address for taking India forward on the path of long-term economic prosperity while ensuring social stability.
Dr Amitendu Palit is Senior Research Fellow and Research Lead (Trade and Economic Policy) at the Institute of South Asian Studies (ISAS) in the National University of Singapore (NUS).