Melbourne Mobile Stroke Unit, Australia's first dedicated Stroke Ambulance
Symposium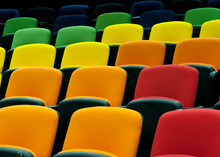 Auditorium, Ground Floor
Kenneth Myer Building
Parkville
Royal Parade
Further Details
The Department of Neurology, Royal Melbourne Hospital welcomes you to this presentation and symposium showcasing Australia's first Mobile Stroke Unit.
The Mobile Stroke Unit is designed to provide frontline pre-hospital management in acute stroke treatment, with a major impact on speed of treatment. It will be able to better direct resources by identifying patients who would benefit from Endovascular Clot Retrieval (ECR) or neurosurgery (in the case of a haemorrhagic stroke) before they arrive in hospital. The Unit will begin operation on 20 November 2017.
The vehicle will be on display outside the Kenneth Myer Building on the day.