How to Achieve … An Equitable Tertiary Education System
Free Public Lecture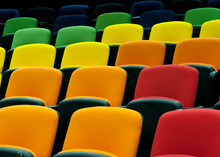 Carrillo Gantner Theatre
Sidney Myer Asia Centre
Parkville
Swanston Street
Australians believe we live in a fair and egalitarian country. We believe in a fair go: in equality of opportunity. We also believe that accessible education and training is a fundamental right and it facilitates prosperity, social mobility and a richer and more engaged economy.
Are these beliefs about who we are based in fact? While access to higher education has increased dramatically over the past 30 years, income and wealth inequality is also on the rise. This seeming contradiction challenges our most fundamental believes about intergenerational mobility.
Is the education system a cure or a curse? Are the biggest beneficiaries of the current system the wealthiest and most advantaged members of society? Has the higher education system been colonised by the rich to benefit the rich?
Evidence of increasing inequality, intergenerational unemployment, failure to address rural and regional disparities, falling performance in international standardised school testing, static social mobility despite expansionary higher education policies, a vocational education system in the iron-clad grip of a policy and funding crisis suggests we need to confront some major questions.
Should we see a return to the pre-Dawkins college of advanced education (CAE), or a modernised version of it: the polytechnic? What about new models, such as the degree apprenticeship being trialed in the UK? How open should we be to experiments that might fail? How do we make tertiary education more affordable and accessible to disadvantaged groups while ensuring they benefit personally and economically from their education? Are universities running a cartel? How do we integrate the tertiary education sector when it has never been more segregated?
Chaired by Professor Kerri-Lee Krause, Deputy Vice-Chancellor (Academic) at La Trobe University.