Influence and Anxiety: Translating Shakespeare's 'The Tragedy of Antony and Cleopatra' into Chinese
Free Public Lecture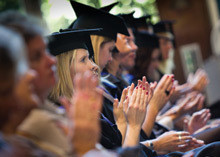 Yasuko Kiraoka Myer Room
Sidney Myer Asia Centre
Further Details
T: (03) 9035 5092
Comparing translations and retranslations of Shakespeare's plays at home, or abroad (even in China) is a striking way to commemorate the 400th anniversary of Shakespeare's death.
Former translators instilled various styles and interpretations into their translated works. In translating Shakespeare's fifth tragedy Antony and Cleopatra, for example, Zhu Shenghao's translation is informed by poetic charm, Fang ping's translation seeks performance effect, while Liang Shiqiu amplifies faithfulness.
Based on previous achievements, self-practice, and introspective influence and anxiety, this lecture tentatively proposes a translation concern with artistic pursuit - preserving form while seeking poetic spirit. This may display a new effect for the translation of Shakespeare's plays and provide a novel perspective for retranslation.
Presenter Xuanmin Luo is Professor of Translation and Intercultural Studies, Faculty of Arts, University of Melbourne.